News
Bio
Troisième album du trio strasbourgeois, le bien nommé III opère sa révolution intérieure tranchant son arc électrique pour mieux développer la répétitivité constitutive du trio en une entité sonique de plus en plus singulière et affirmée, à la cohésion aussi massive, dense et transcendante qu'une pyramide.
Apparu en 2005 sur la scène punk underground strasbourgeoise (squats, fanzines, autoproduction, autogestion), le trio formé par Éric Bentz (guitare, voix), Vincent Robert (clavier, voix) et Vincent Redel (batterie) s'est rapidement fait connaître pour ses concerts aussi électrisants que dansants, mariant autoroutes krautrock, accidents mathrock, griffures noise, et électronique intégrée. Le bolide a sillonné les routes d'ici et d'ailleurs, du festival ZXZW de Tilburg (NL) aux Eurockéennes de Belfort, du Tapette fest. à la Route du Rock en passant par Jazz à Mulhouse, Les Rockomotives, Musiques Volantes, South By Southwest (US) ou encore Pop Montréal (CA)…
Le trio a produit en série son moteur hybride et polyrythmique, sur deux albums nerveux et racés ( Sad City Handclappers , en 2008, et Discipline , en 2012), à des tempos qui franchissaient aisément la ligne blanche, tout en puissance (volume), accélérations (motorik) et virages contrôlés (virtuosité) ; soit « la puissance de Slayer au service de Shellac », selon un journaliste aux bons mots, formule magique à laquelle on ajoutera quelques ingrédients psychédéliques (Silver Apples), krautrock (Can, Neu), post-punk (PIL, Muslimgauze), futuristes (TransAm, Add N To X), ou tout ça à la fois (Boredoms, Clinic, Suuns, Nisennenmondai, Beak>).
Partageant leur tour-bus avec No Means No, TransAm, Psychic Paramount, Lucky Dragons, Action Beat, Monotonix ou The Intelligence, le trio déroule aussi régulièrement dans les équipées sauvages de 'La Colonie de Vacances', concerts punk à quatre groupes (Papier Tigre, Pneu, Marvin, Electric Electric) et onze types cernant, quadrillant un public ravi d'être ainsi traversé, du Nord au Sud, d'Est en Ouest, ne sachant plus où donner de la tête, ni du corps.
De ces expériences communautaires, le trio de tête a moins gardé la dispersion des fréquences et les nécessaires compromis à l'intérêt général, que la nécessité d'affirmer et d'assumer son idiosyncrasie, son cosmos intime.
Ce nouveau-né III arrive donc comme une petite révolution face à tout ce qui constituait leur électricité au carré (festive, frénétique, instrumentale). Eric, porteur de l'esthétique du groupe, initie ce mouvement en 2014 lorsqu'il envoie à ses acolytes des démos pour la première fois sans riffs de guitares ni batteries, mais nourries de plages ambient, de voix spectrales, inédites, et de tempos ralentis, lointains. Nait alors une double mise en tension, un élan réciproque : la possibilité pour ces désirs intimes de se réaliser au sein de l'espace collectif du groupe et l'ouverture inédite de la composition aux autres membres, dans la poursuite d'une esthétique commune.
À ce besoin de rouler moins vite et de taper moins fort, mais de faire émerger de la fureur habituelle le détail lumineux, la part intime de soi qui justifie la transe et l'exaltation, autant que la sourde inquiétude de la violence sociale et politique, les deux autres musiciens ont accordé leurs machines et batterie pour également brouiller les pistes, les époques, les références, passer de la ligne claire de l'événement brut à une immersion dans les strates sonores et les détails de production, en agrégeant à l'ADN survolté du groupe les musiques qu'ils écoutent : musique contemporaine ou électro-acoustique, du GRM à Morton Feldman, jusqu'aux expérimentations de Coil, Scott Walker, ou plus près de nous, des électronicistes Lee Gamble ou Vatican Shadow.
Ce travail sur les textures, les timbres, les fréquences, facilité par des échanges épistolaires argumentés (Vincent Robert travaillant la production et le mix depuis Nantes, à distance avec Eric), et la présence marquée de la voix et du chant ( Les Bêtes contient même un long spoken-word de Philippe Poirier, de Kat Onoma) ne font pour autant pas sonner III comme un rejet de l'esthétique première du groupe, mais enrichissent et singularisent leurs ambitions. De danse, de transe, rituelle quoique toujours profane, exaltant la libération des corps dans la répétition, la différence, ou l'événement, la musique du trio est toujours, à sa manière, politique, moins dans l'évocation (pour Dassault, Black Corée, Klimov – en référence à l'auteur russe de Requiem pour un massacre ) que dans la fonction qu'elle occupe, de libérer les corps ou de les faire s'abandonner, les faire exulter, vivre pleinement, sans fard ni contraintes, ne serait-ce que le temps d'un concert.
Ce nouveau III d'Electric Electric affirme et assoit donc leur identité, leur esthétique. C'est un album qui leur ressemble moins (c'est-à- dire qui ressemble moins à ce qu'on pouvait attendre d'eux), et qui leur ressemble plus (qui ressemble plus à ce qu'ils sont). Mais n'est-ce pas souvent dans la recherche du plus intime, du plus personnel, que l'on touche le mieux au général, à l'universel ? Nul doute qu'ils seront nombreux à se reconnaître dans cette nouvelle naissance.
LINE-UP
Éric Bentz : guitare, voix
Vincent Robert : clavier, voix
Vincent Redel : batterie
III, the aptly named third album by Strasbourg trio Electric Electric sets an inner revolution in motion: While curbing their electric arc in order to better develop the trio's foundational repetitiveness into an increasingly singular and assertive sonic entity, III creates a cohesion just as massive, dense and transcendental as a pyramid.
Formed in 2005 within Strasbourg's underground punk scene (amidst squats, fanzines, self-production and self-management) the trio made up of Eric Bentz (guitar, vocals), Vincent Robert (synths, vocals) and Vincent Redel (drums) has quickly gained a reputation for their both electrifying and danceable concerts; mixing krautrock highways with math-rock accidents, noisy scratches and integrated electronics. This musical hot-rod has criss-crossed highways from here to there, from the ZXZW Festival in Tilburg to the Eurockéennes in Belfort, over to Tapette Fest, on to the Route du Rock via Jazz à Mulhouse, Les Rockomotives, Musiques Volantes, South by Southwest (USA) and Pop Montréal (CA) to name but a few…
The trio put its hybrid, polyrhythmic engine into serial production with their two dynamic and streamlined albums, Sad City Handclappers (2008) and Discipline (2009). At breakneck tempos they combined power (volume) with accelerations (motorik) and tight bends (virtuosity) or as one well-versed journalist put it simply: "The power of Slayer at the service of Shellac". A kind of magic potion to which we will add a few ingredients, be they psychedelic (Silver Apples); krautrock (Can, Neu!); post-punk (PiL, Muslimgauze); futuristic (TransAm, Add N To X) or all of the above (Boredoms, Clinic, Suuns, Nissenenmondai, Beak>)
Not only having shared their tour bus with No Means No, TransAm, Psychic Paramount, Lucky Dragons, Action Beat, Monotonix or The Intelligence, Electric Electric also appear regularly as part of the savage quadraphonic venture named "La Colonie de Vacances", offering punk concerts comprising four bands (in collaboration with Papier Tigre, Pneu and Marvin) during which 11 musicians encircle and lock down an audience who are transfixed from North to South, East to West and quite frankly don't quite know which way to turn.
However, rather than pursuing compromise and dispersal often inherent to such cooperative endeavours, the leading trio seems to have learnt from this communitarian experiment just how important the need to confirm and assure their idiosyncrasy and inner cosmos really is.
The new-born album III appears to be a small revolution when compared to the original elements which built up the trio's electricity (festiveness, frenzy and instrumentals).
Eric, mastermind of the band's aesthetics, initiated this evolution in 2014 when he began sending demos without guitar riffs or drums to his associates. Instead, the demos thrived on ambient soundscapes, spectral and unprecedented voices and slow, distant tempos. A mutual momentum and a two-way tension were born: the possibility for personal desires to be realized within the shared space of the group as well as the thus-far unexplored opportunity to open up composing to the other band members, in the aim of finding a common style.
This personal need to slow things down and strike more softly while, in the midst of everyday violence, trying to seize a specific, radiant detail (be it an innermost thought which induces a state of trance and exaltation or a muted concern about today's social and political injustice) is accompanied by the two other members of the group; The trio tune in their instruments to put up a smokescreen, mixing epochs and references, unravelling the rough outlines of an event to build up to an immersion within layers of sound and production details – all the while combining various musical influences with their already overcharged DNA: We can pick up on hints of contemporary classical music or electroacoustic music, from GRM to Morton Feldman, to the experiments of Coil, Scott Walker or more recently the work of electronicists such as Lee Gamble and Vatican Shadow.
Despite all of this work around textures, timbres and frequencies (facilitated by long epistolary exchanges between Eric and Vincent Robert while the latter was working on production and mixes in Nantes) combined with a strong presence of vocals and singing (Les Bêtes even includes a section of spoken-word by Philippe Poirier from Kat Onoma) does not mean III totally breaks away from the trio's previous style; it rather deepens and characterises their ambitions.
Using dance, trance and profane rituals to enthuse liberated bodies through repetition, difference and event, Electric Electric's music continues to be political in its own way. Although less by direct evocation (as with Dassault, Black Corée or Klimov which references the Russian author of a Soviet War drama film Come and See) than by the mission the trio has given itself: liberating bodies, making one forget oneself, causing elation and allowing people to live an experience fully, candidly and without constraint if only for the duration of a concert.
III therefore asserts and confirms Electric Electric's identity and style. It is an album that doesn't resemble the trio (inasmuch as it is not what we expected from them) yet it resembles them greatly (in that it reflects what they truly are). Isn't it often the case that when searching for the most intimate things and the most personal experiences that we touch upon something we might call universal? It is without a doubt that many people listening will recognize themselves in this re-birth.
Press
McG's Backroom 

"Of all the French bands inspired by the entrancing monotony of krautrock, Electric Electric may be the krautiest. This guitar-drums-synth trio from Strasbourg hypnotizes with a thick drone that would recall industrial rock, were the effect not more euphoric than corrosive. "

Libé Next

"Le résultat est explosé, riche, parfois brutal mais surtout incroyablement grisant et communicatif (...). Le troisième album d'Electric Electric n'en demeure pas moins un objet d'une originalité indécente et d'une scandaleuse témérité. Un prototype au sens propre."

Mowno

"Comme si la clé était là, cachée quelque part, mais qu'implacablement on se heurtait à ce labyrinthe sonore, aussi énigmatique que fascinant. Si un grand récit de science-fiction dystopique devait être prochainement porté à l'écran, sûr que 'III' aurait de sérieuses prétentions à être sa bande-originale."

New Noise

"L'équilibre entre des textures ambient, riches et toujours en mouvement, et une couche tendue de percussions, formant un maëlstrom compact rempli de sonorités obsédantes, répétitif mais pas poussif une seule seconde: voilà une des réussites d'Electric Electric, et ce, particulièrement sur cet album."

The Drone

"Mais si III est sans doute le plus sinueux de la discographie des acolytes (...), il se dégage une certaine frénésie, une violence sourde, contenue mais bel et bien perceptible. Entre les voix tourmentées de "Black Corée" et son synthé obsédant, la progression tout en retenue de "Klimov" ou les sirènes de "Dassault", ce disque recèle une noirceur hypnotique, guère éloignée de l'atmosphère de la techno la plus sombre."

Mowno

"Sous ses airs de musique savante, la leur se prend comme une grande baffe dans la gueule avant de vous faire danser comme un névrotique."

Gonzaï

"(...) Des machines, des claviers, une batterie, une guitare. Des textes, même, parfois. Du noir et blanc très dense. Des répétitions qui enflent. Des climats climax, des poussées de fièvre dans les algorithmes, la disto branchée dans les cheveux, l'air qui vient à manquer, la guerre toutes les quatre mesures, un concert de warnings, l'aiguille dans le rouge aussi longtemps qu'il le faudra, l'insupportable à ta porte, qui tape et tape encore, qui cherche à entrer, qui finira par y arriver, inédite catharsis et metal machine music à tous les étages."

Sourdoreille

"Entre bruit nerveux à tendance martiale et plages électriques sombres, terriblement tendues, c'est un mélange réussi et une invitation à l'abandon et à l'échappée. Amateurs de sonorités froides et de son sourd, tenez-vous bien. La musique de cette bande est garantie dense et désincarnée."

Noisey Vice

"Electric Electric propulse un rock mutant, au son énorme mais au format hors normes, tout en martèlements hypnotiques et déferlements magnétiques. De l'électricité pas du tout statique. Au contraire : vibrante et grondante."

Longueur d'Ondes

"(...) Les strasbourgeois n'ont pas lissé leur musique sur ce nouvel album aux allures de transe hypnotique, qui vacille sans cesse entre krautrock, noise, post-punk et techno, avec une habileté et une délicatesse remarquable."

Time Out

"Guitares cinglées ou cinglantes, synthés modulaires et base rythmique épileptique : Electric Electric porte terriblement bien son nom et vous réserve lui aussi une belle séance de béatitude saturée à 140 bpm."

X Silence

"On a comme un sentiment oppressant face à de telles sonorités métronomiques qui surgissent sans sommation et nous foutent la tête dans le sac. Et le pire, c'est qu'on en redemande, à l'instar de la pépite de clôture '17°00' qui est autant oppressante qu'exaltante. C'est dire."

The Quietus

"(...) they've still been one of the most promising exponents of geometrical electro-rock in France over the last few years (...). What they needed was a recording to match their bracing (and severe chicken neck-inducing) live performances, and that's pretty much what we have here."

Alter1fo

"Car au-delà de la précision et de l'énergie incandescente qui se dégage de ce léviathan percussif, le plus fascinant reste la richesse de ce qui se déploie en son sein. Guitare transfigurée, voix puissamment fantomatiques, synthés déviants se mêlent, s'empilent, se répondent avec un soin maniaque. On ressort de là à nouveau totalement conquis et ravi : si le pur plaisir physique de leur musique reste toujours aussi époustouflant, leurs paysages musicaux ont encore gagné en finesse et en complexité sonore."

Sun Burns Out

"La musique d'Electric Electric est maniaque, obsessionnelle. Elle incorpore les codes transgressifs des grands expérimentateurs que sont Pere Ubu ou Can, dans des structures pop sans queue ni tête."

Just Focus

"Avec des éléments d'ambiant, une ouverture à des influences indus et exotiques et surtout, la déconstruction de leurs propres références noise auxquelles nous étions coutumiers, Electric Electric a tapé fort."

Zut ! Magazine

"Sur III, les trois membres d'Electric Electric (...) font exploser la palette musicale, entre Suicide, Beak> et Vatican Shadow, et créent des boucles hypnotisantes, des ruptures brutales et rythmiques mathématiques. Un château de sons menaçant de s'effondrer à chaque instant, pour un résultat sur la corde d'une urgence folle"

Chromatique

"Boucles minimalistes, tapis roulant polyrythmique, c'est une tempête quasiment ininterrompue qui déferle sur scène et se propage dans la fosse."

LIBÉ NEXT

"Les Strasbourgeois Electric Electric, patrons de la transe rock hexagonale."

LES INROCKUPTIBLES

"Une machine que rien ne semble pouvoir arrêter, convoquant tour à tour paysages électroniques, culture math rock et rythmiques tribales. Plus qu'un énième album de noise, cette bombe créative joue autant avec la mélodie qu'avec les émotions" 3,5/5 - Emmanuel Guinot

NOISE

" 'Discipline' sera placé sous le signe du rythme. Ce qui n'étonnera guère les habitués des prestations live trépidantes du groupe, véritables moments de transe rock comme il est rare d'en vivre."

MAGIC

"L'union entre maîtrise instrumentale et frontalité physique, sensibilité mélodique et appétit de destruction. Mais on respecte le choix du titre, à prendre littéralement. Une 'Discipline' dépourvue de tout romantisme Joy Divisionien."

INDIEPOPROCK

"Electric Electric est le vaisseau amiral du post-punk français."

PROFONDEUR DE CHAMPS

"Les trois Strasbourgeois s'installent, et alors débute un rouleau compresseur littéralement irrésistible. Les loops de guitare s'enchaînent, la batterie est épileptique et les voix forment des complaintes qui se fondent dans un décor apocalyptique." - live report MOFO Festival 2014

Chromatic

"Un disque radical, violent, étouffant. Superbement interprété et brillamment produit. Une claque bienfaisante, une secousse tellurique salutaire qui te prend par les épaules, te rudoie et te hurle droit dans les yeux : « Hé, mec, réveille-toi ! T'es vivant !"

LOUDER THAN WAR (UK)

"The drummer pounds the kit with ferocious intensity, mending Techno kicks with tribal toms and sizzling hi-hat action. He's dressed for the gym and looks like he's having a decent workout. The guitars and electronics work well together too, needling guitar lines and electro-industrial loops from synth and laptop with some haunting vocals thrown in to create the atmosphere too. Both the guitarist and the electric wizard have their own percussion for a little extra wallop. It's controlled chaos throughout and aggressive in all the right parts. Another hard-working band who get around Europe a lot it would seem. Keep an eye out for them."

SONIC MASALA (US)

"Electric Electric are so scintillating they have to repeat their name twice."

INKOMA.COM - ITALY

"Outrageously, fucking percussive: pure adrenaline. Fuck this review, press play on Pornographic Arithmetic, then buy this bloody record."

chroniquesautomatiques

"Ce morceau tribal cauchemardesque se vit comme un Animal Collective passé à fond dans une cellule capitonnée avec trois colocataires sous médicaments qui te tabassent."
34
Contact
Booking: xavier.muraillesmusic[at]gmail.com Promo: adrien[at]brown-bunny.fr
Listen
'La Centrale'

'Discipline' LP (2012)

'Material Boy'

'Discipline' LP (2012)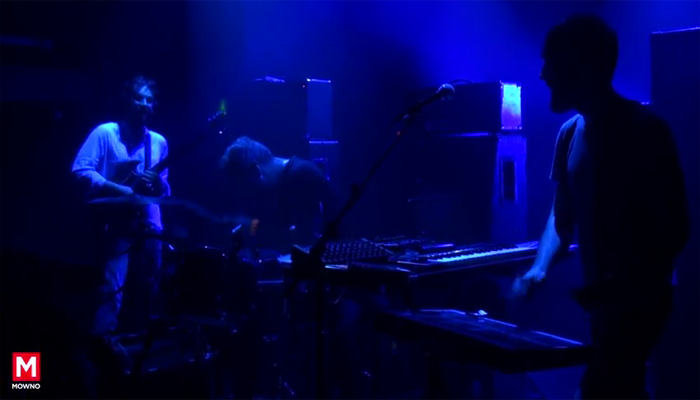 Mind Your Head #18 - Live in Petit Bain, Paris 2017
Electric Electric
Fr / Murailles Music - Kythibong
Next show
Pas de concert actuellement - No current show
Past show
Click on "date", "artist", "city" or "venue" to change the list display
| Date | City | Venue | With | Info | Event | Ticket | Edit |
| --- | --- | --- | --- | --- | --- | --- | --- |
| 05.05.2018 | Bruxelles | Les Nuits - Botanique | DJ Lag | Info | Event | ticket | > |
| 07.04.2018 | Metz | Les Trinitaires | Protomartyr | Info | Event | ticket | > |
| 05.04.2018 | Besançon | L'Antonnoir | - | - | Event | ticket | > |
| 04.04.2018 | Guin - CH | Bad Bonn | - | Info | Event | ticket | > |
| 03.04.2018 | Dijon | Grange Rose des Lentillères | - | - | Event | - | > |
| 02.04.2018 | Amiens | L'Accueil Froid | - | Info | - | - | > |
| 01.04.2018 | Caen | Festival Palma - Quartier Lorge | - | Info | Event | - | > |
| 31.03.2018 | Lille | PZZLE festival - Maison Folie Moulins | - | - | Event | ticket | > |
| 09.11.2017 | Paris | La Station Gare des Mines | - | - | Event | ticket | > |
| 08.11.2017 | Limoges | Le Doggo | - | - | Event | - | > |
| 07.11.2017 | Felletin | La Petite Maison Rouge | - | - | Event | - | > |
| 06.11.2017 | Beauregard (Lot) | Le Presbyt'hair | - | - | Event | - | > |
| 05.11.2017 | Agen | Le Florida | Postcoïtum | Info | Event | ticket | > |
| 04.11.2017 | Pavie | La Fenière - Domaine de Besmaux | - | - | Event | - | > |
| 03.11.2017 | Marseille | L'Embobineuse | - | Info | Event | - | > |
| 02.11.2017 | Lyon | Le Sonic | - | Info | Event | ticket | > |
| 29.07.2017 | Hirschfeld (DE) | L*Abore festival | Hyperculte, Partout Partout, Africaine 808... | Info | Event | ticket | > |
| 17.06.2017 | Paris | Petit Bain | It It Anita, La Jungle | Info | Event | ticket | > |
| 10.06.2017 | Dunkerque | Les 4 Écluses | - | Info | Event | - | > |
| 15.04.2017 | Pau | Festival À Tant Rêver du Roi (La Centrifugeuse) | Api Uis, Winter Family, Les Agamemnonz, Nursery | Info | Event | - | > |
| 14.04.2017 | Poitiers | Auditorium du musée Sainte-Croix | - | Info | Event | ticket | > |
| 13.04.2017 | Brest - ANNULÉ | La Carène | Lysistrata | Info | Event | ticket | > |
| 11.03.2017 | Rennes | Festival Les Embellies - Le Jardin Moderne | Mnemotechnic + Braziliers + Bornor + Nursery | Info | Event | ticket | > |
| 10.03.2017 | Paris | Le Supersonic | Franky Goes To Pointe à Pitres, L'Impasse Mexicaine, Hush Frequency | - | Event | - | > |
| 24.02.2017 | Brainans | Le Moulins de Brainans | - | - | - | - | > |
| 23.02.2017 | Angers | Festival les Z'Eclectiques (Le Chabada) | - | Info | Event | ticket | > |
| 03.02.2017 | Tours | Festival Allotropiques | - | Info | Event | ticket | > |
| 02.02.2017 | Nantes | Le Ferrailleur | Miët | Info | Event | ticket | > |
| 21.01.2017 | Paris | Point Éphémère | F.U.T.U.R.OS.C.O.P.E. | Info | Event | ticket | > |
| 20.01.2017 | Charleroi (BE) | Le Vecteur | Usé | Info | Event | - | > |
| 19.01.2017 | Bruxelles (BE) | Madame Moustache | - | Info | Event | ticket | > |
| 10.12.2016 | Reims | Maison de quartier Val de Murigny - Espace Le Ludoval | - | - | Event | ticket | > |
| 09.12.2016 | Allonnes | Péniche Excelsior | - | Info | Event | ticket | > |
| 08.12.2016 | Saint Etienne | NNY Fest -(Ursa Minor) | - | - | Event | - | > |
| 07.12.2016 | Montpellier | Le Rockstore | - | - | Event | ticket | > |
| 26.11.2016 | Boulogne Billancourt | Festival BB Mix - Salle Carré Belle-Feuille | Goat, The Pop Group, Fantastic Mister Zguy, Dj Cambodian Knives | Info | Event | ticket | > |
| 25.11.2016 | Villeneuve-d'Ascq | Festival Tour de Chauffe - La Ferme d'en Haut | Japans | Info | Event | - | > |
| 19.11.2016 | Chalon sur Saône | Lapéniche | - | - | - | - | > |
| 18.11.2016 | Lyon | Festival Riddim Collision - Marché Gare | Francky Goes to Pointe à Pitre, Quadrupède, Maria Rockmore | Info | Event | ticket | > |
| 11.11.2016 | Freiburg im Breisgau (DE) | Slow Club | - | - | - | - | > |
| 10.11.2016 | Nancy | Festival Musiques Volantes - L'Autre Canal | SUUNS | Info | Event | ticket | > |
| 21.10.2016 | Le Havre | Festival Ouest Park - Fort de Tourneville | Naïve New Beaters, Super Parquet, etc. | Info | Event | ticket | > |
| 15.10.2016 | Strasbourg | Le Molodoï | KG | Info | - | - | > |
| 14.10.2016 | Vevey (CH) | Festival du bout du monde | Papier Tigre, Service Fun, Frank Waxman | Info | - | - | > |
| 13.10.2016 | Genève (CH) | L'Usine | Papier Tigre | Info | Event | ticket | > |
| 12.10.2016 | La Chaux-de-Fonds (CH) | Le Bikini test | Papier Tigre | - | - | - | > |
| 01.10.2016 | Clermont-Ferrand | Le Raymond Bar | - | Info | - | - | > |
| 30.09.2016 | Toulouse | Le Metronum | - | Info | Event | ticket | > |
| 29.09.2016 | Biarritz | Atabal | Jessica 93, Usé | Info | Event | ticket | > |
| 28.09.2016 | Châteauroux | Le 9 Cube | - | Info | Event | - | > |
| 17.09.2016 | Orléans | Festival Hop Pop Hop - Centre Chorégraphique National D'Orléans | Blast, It It Anita, La Mverte | Info | Event | ticket | > |
| 31.08.2016 | Montreal | La Sala Rossa | Papier Tigre, Pneu, Marvin | Info | Event | ticket | > |
| 09.07.2016 | Tournan-en-Brie | La Ferme Electrique | - | - | - | - | > |
| 02.06.2016 | Dijon | Le Consortium | Chocolat | Info | Event | ticket | > |
| 07.05.2016 | Chabeuil | Festival Rencontre entre les mondes | - | Info | Event | ticket | > |
| 04.05.2016 | Bourges | Emmetrop | Sheik Anorak, Braziliers | Info | - | ticket | > |
| 23.04.2016 | Pont-à-Celles (BE) | Pacrock Festival | Lætitia Sheriff | Info | - | ticket | > |
| 22.04.2016 | Houtain-Saint-Siméon (BE) | Houtain Rock Festival | - | Info | Event | - | > |
| 21.11.2015 | Strasbourg | ANNULÉE | Lauter | Info | Event | - | > |
| 27.06.2015 | Cosne d'Allier | Festival Au Coeur de Cosne | Burning Heads, C*nt | - | - | - | > |
| 08.05.2015 | Besançon | Festival Circasismic | JC Satan | - | Event | ticket | > |
| 07.05.2015 | Troyes | Chapelle Argence | Jessica 93, Mars red sky | Info | Event | - | > |
| 22.01.2015 | Joué lès Tours | Cocktail Pueblo Festival, Le Temps Machine | Pneu, Don Vito | Info | - | - | > |
| 06.12.2014 | Vendôme | Festival du Film à Vendôme, Le Minotaure | - | Info | - | ticket | > |
| 28.11.2014 | Hamburg (De) | Fabrik | - | Info | Event | - | > |
| 25.10.2014 | Bruxelles (Be) | Magasin 4, Festival Hexagen | - | Info | Event | - | > |
| 23.08.2014 | Carelles | Festival Terra Incognita | - | Info | Event | ticket | > |
| 27.06.2014 | Lärz (De) | Fusion Festival | - | Info | Event | - | > |
| 23.06.2014 | Rybinsk (Ru) | Palais de la culture 'Aviator' | - | - | Event | - | > |
| 22.06.2014 | Iaroslavl (Ru) | Plyazh Cocktail Bar | - | - | - | - | > |
| 21.06.2014 | Perm (Ru) | "Village" du festival Les Nuits Blanches | - | - | - | - | > |
| 20.06.2014 | Ekaterinbourg (Ru) | Parc Central de la culture et de la Récréation Mayakovsky | - | - | - | - | > |
| 18.06.2014 | Novossibirk (Ru) | Parc du 1er Mai | - | - | - | - | > |
| 17.06.2014 | Novossibirk | Time-café Campus | - | - | - | - | > |
| 14.06.2014 | Irkoutsk (Ru) | Club Akula | - | Info | - | - | > |
| 31.05.2014 | Metz | Les Trinitaires | Nisennenmondai | Info | Event | ticket | > |
| 24.05.2014 | Pantin | Festival Coax, La Dynamo | - | Info | Event | - | > |
| 26.04.2014 | La Roche sur Yon | Fuzz'Yon | Dub Trio | Info | Event | ticket | > |
| 20.04.2014 | Nürnberg (All) | Misty Mountain Road Show, K4 - Zentralcafe | - | Info | Event | - | > |
| 19.04.2014 | Berlin (All) | Misty Mountain Road Show, Jägerklause | - | Info | Event | - | > |
| 18.04.2014 | Hamburg (All) | Misty Mountain Road Show, Hafenklang | - | Info | Event | - | > |
| 17.04.2014 | Dresden (All) | Misty Mountain Road Show, Sektor Evolution | - | Info | Event | - | > |
| 08.03.2014 | Manchester (Uk) | Klondyke Club | - | Info | Event | ticket | > |
| 07.03.2014 | Leeds (Uk) | Brudenell Social Club, British Wildlife Festival | - | Info | Event | ticket | > |
| 06.03.2014 | Sheffield (Uk) | The Harley | - | Info | Event | ticket | > |
| 05.03.2014 | Edinburgh (Uk) | Opium | - | Info | - | - | > |
| 04.03.2014 | Glasgow (Uk) | Bar Bloc + | - | Info | Event | - | > |
| 03.03.2014 | Stirling (Uk) | The Basement | - | - | Event | - | > |
| 02.03.2014 | Newcastle (Uk) | The Tyne Bar | - | Info | Event | - | > |
| 01.03.2014 | Coventry (Uk) | The Tin Music & Arts Centre at the Coal Vaults | - | Info | Event | ticket | > |
| 28.02.2014 | Londres (Uk) | Surya | - | Info | Event | ticket | > |
| 25.01.2014 | Saint-Ouen | Mains d'Oeuvres, Festival Mo'Fo | - | Info | Event | ticket | > |
| 15.12.2013 | Clermont-Ferrand | Raymond Bar | Fordamage | Info | Event | - | > |
| 14.12.2013 | Cholet | Le Bar'ouf | Seilman Bellinsky, Fordamage | Info | Event | - | > |
| 06.12.2013 | Massy | Paul-B | Poni Hoax | Info | - | - | > |
| 29.11.2013 | Luxembourg-Hollerich (Lu) | Carré Rotondes, Exit07 | - | Info | Event | ticket | > |
| 28.11.2013 | Hasselt (Be) | Muziekodroom | - | Info | - | - | > |
| 27.11.2013 | Bruxelles (Be) | Autumn Falls Festival - Atelier 210 | - | Info | - | ticket | > |
| 16.11.2013 | Montpellier | Festival '34 Tours' - Victoire 2 | Chokebore, Verdun | - | Event | - | > |
| 15.11.2013 | Colmar | Festival Supersounds | JC satan, Parbuffle | - | Event | - | > |
| 09.11.2013 | Lyon | Festival 'Riddim Collision' - le Transbordeur | Tima Exile, Aucan, Dope D.O.D. | Info | Event | ticket | > |
| 04.10.2013 | La Réunion | La cerise sur le chapeau | Riske Zero | - | Event | - | > |
| 31.08.2013 | Loches | Pad'Non Festival | Downset | Info | - | - | > |
| 17.08.2013 | Schnaittach-Lillinhof (Nuremberg - ALL) | Festival Misty Mountain | - | Info | - | - | > |
| 15.08.2013 | Saint Malo | Festival La Route du rock | - | Info | - | ticket | > |
| 10.08.2013 | Bidart | Festival BALEAPOP | ETIENNE JAUMET - ALBA LUA | Info | Event | - | > |
| 20.07.2013 | Esslingen (de) | Komma Summerfestival | - | Info | - | - | > |
| 19.07.2013 | Dour (be) | Dour Festival | Fourt Tet, Simian Mobile Disco, Dan Deacon, ... | Info | Event | ticket | > |
| 12.07.2013 | Luz Saint Sauveur | Festival d'Altitude JAZZ à LUZ | - | Info | - | - | > |
| 06.07.2013 | Würzburg | XYEAHX Summerfest | SCHNAAK | Info | - | - | > |
| 05.07.2013 | Cravanche | Festival Les Eurockéennes - Club Loggia | Smashing Pumpkins, Archive, ... | Info | - | ticket | > |
| 01.06.2013 | Cologne (ALL) | Kalk | - | - | - | - | > |
| 31.05.2013 | Heilbronn (ALL) | Komplex 23 | - | - | - | - | > |
| 30.05.2013 | Leipzig (ALL) | Ortloff | - | Info | - | - | > |
| 13.05.2013 | Paris | Le Gibus | Catholic Spray, Futur | - | Event | - | > |
| 12.05.2013 | Paris | Le Trabendo | Death Grips | Info | Event | ticket | > |
| 10.05.2013 | Le Bleymard | Festival d'Olt | - | Info | Event | ticket | > |
| 09.05.2013 | Genève (Suisse) | La Gravière | - | Info | - | - | > |
| 08.05.2013 | Lyon | Festival 'Les Nuits Sonores' | JC Satan, Crime and The City Solution | Info | Event | ticket | > |
| 04.05.2013 | Mouscron (BE) | Century Festival | - | Info | - | ticket | > |
| 03.05.2013 | Namur (BE) | Le Belvédère | - | Info | Event | - | > |
| 02.05.2013 | Reims | L'Écluse | - | - | - | - | > |
| 27.04.2013 | Liège (BE) | La Zone | - | Info | - | - | > |
| 26.04.2013 | Heerlen | Nieuwe Nor | - | Info | Event | - | > |
| 25.04.2013 | Haarlem (NL) | Patronaat | - | Info | - | - | > |
| 24.04.2013 | Opwijk (BE) | Nijdrop | - | Info | Event | ticket | > |
| 20.04.2013 | Dijon | L'Abbey Road | - | - | Event | - | > |
| 19.04.2013 | Albi | Festival 'Complot sur le campus' | - | - | Event | - | > |
| 18.04.2013 | Clermont Ferrand | Le Raymond's Bar | - | Info | - | - | > |
| 13.04.2013 | St Nazaire | Le Vip | - | Info | - | - | > |
| 12.04.2013 | Cherbourg | Little big place | - | Info | - | - | > |
| 11.04.2013 | Rennes | L'Antipode MJC - Festival 'Roulement de tambour' | Fordamage, Microfilm, Ed Wood Jr | Info | Event | ticket | > |
| 10.04.2013 | Poitiers | Le Zinc | - | Info | Event | - | > |
| 30.03.2013 | Neuchâtel (Suisse) | Queen Kong Club | - | - | - | ticket | > |
| 23.03.2013 | Rouen | Le 106 - Festival 'Les Pluriels' | Seal of Quality | Info | Event | ticket | > |
| 22.03.2013 | Agen | Le Florida | La Terre Tremble !!! | Info | Event | ticket | > |
| 21.03.2013 | Nantes | Le Stereolux | Powerdove, Double Nelson | - | Event | ticket | > |
| 20.03.2013 | Paris | Le Petit Bain | Chausse Trappe, Seal of Quality | - | Event | ticket | > |
| 15.03.2013 | Nancy | Le Hublot | Scorpion violente + you Freud, me Jane | - | Event | - | > |
| 23.02.2013 | Besançon | La Rodia | Shiko Shiko | Info | - | ticket | > |
| 22.02.2013 | Yverdon-Les-Bains (Suisse) | L'Amalgame | - | Info | - | - | > |
| 09.02.2013 | Magny le Hongre | Le File 7 | Mermonte | Info | - | ticket | > |
| 08.02.2013 | Lorient | Le manège | JC Satan, We are Van Peebles | Info | - | ticket | > |
| 07.02.2013 | Brest | La Carène | Papaye, No Pilot | Info | Event | ticket | > |
| 06.02.2013 | La Rochelle | La Sirène | JC Satan | Info | Event | ticket | > |
| 19.01.2013 | Argenteuil | La cave dimière | La Terre Tremble !!! | Info | - | ticket | > |
| 18.11.2012 | Roubaix | La Condition Publique | - | - | - | ticket | > |
| 17.11.2012 | St Germain en Laye | La Clef | - | - | - | ticket | > |
| 16.11.2012 | Château-Thierry | Festival 'Picardie Mouv', La Biscuiterie | - | Info | Event | - | > |
| 15.11.2012 | Grenoble | La Bobine | - | - | - | ticket | > |
| 14.11.2012 | Nîmes | La Paloma | - | - | - | ticket | > |
| 13.11.2012 | St martin de Lansuscle (48) | Le Temple | - | - | - | - | > |
| 12.11.2012 | Perigueux | Lou Vessiou (Homes show) | - | Info | - | - | > |
| 10.11.2012 | Orléans | L'Astrolabe | - | - | - | ticket | > |
| 09.11.2012 | Paris | Le Nouveau Casino | - | Info | - | ticket | > |
| 19.10.2012 | Tours | le Temps Machine | - | - | - | - | > |