Bio
Chanson française, bruitismes, rumeurs des musiques anciennes et lointaines, instruments faits-mains, radios-transistors modifiés et autres vieux objets électroniques, Bégayer cherche un geste pour les sans-folklores, pour les rejetons de cette culture du manque, enfantée aussi bien par le crépuscule des habitus populaires que par les hurlements bruitistes, par les places publiques des villages comme par le fourmillement des flux numériques, pour un genre inédit de rapsodes-métèques.
On peut voir la culture du manque comme une joie cruelle, l'occasion d'une communion entre l'interprétation titubante de gestes anciens et de tentatives présentes, il s'agit de construire des variations singulières et des débordements.
Ainsi chaque chant bègue voudrait être un objet inquiétant et joyeux, dont l'obstination, la cruelle simplicité s'offrent en tant qu'objets manifestes d'agitation, comme distances à éprouver, comme études qui nous regardent.
LINE-UP :
Loup Uberto : Voix, guitare, luths trois cordes
Lucas Ravinale : luth trois cordes basse, circuit bending, percussions
Alexis Vinéïs : Batterie, percussions, gardon
French songs, noises, rumors of distant and early musics, short and cruel poems, handcrafted instruments, radio-amplifiers, circuit bending and other wasted electronic devices, « Bégayer » (the french word for « stutter ») pursues a gesture for those without a folklore, for this culture of void, structured by the gloaming of popular habitus as well as glitches from noise music, influenced by the public squares as well as the swarming of numerical flows, for a original kind of wog-rapsodists.
This culture of void has to be seen as a cruel joy, the occasion for a conjunction beetween strange interpretations of ancient signs, popular forms and contemporaneous attempts. It is the construction of singular variations and overflows.
For Jean Rouch, a horizon for modern anthropologists was to « put disturbing objects into motion », thus every song is a distance to experiment, an etude which is watching us. Thus every stutterer song wants to be a disturbing and joyful object, whose cruel cimplicity, obstinacy, unfolds itself as an object of unquietness.
Loup Uberto : Vocals, guitar, three-strings luth
Lucas Ravinale : three-strings-luth-bass, radios, circuit-bending, percussions
Alexis Vinéïs : Drums, percussions, gardon
Press
LES INROCKUPTIBLES

"Dans la musique, c'est justement l'hybridation des racines qui donne les fruits les plus savoureux, […] la musique du Sahara a croisé la France dans le vrai monde, celui des émotions fortes et des odeurs de sueur." - Stéphane Deschamps

LIBERATION

" […] du rock de transe à l'os, du blues touareg qui s'écroulerait et se relèverait à longueur de temps et de chansons, pour l'éternité, ou une baston dans la boue. " - Olivier Lamn

L'AUTRE QUOTIDIEN

" Une musique brute et lancinante, un peu tarabiscotée comme la torsion d'un blues du Maghreb avec des tourneries répétitives et un chant habité comme un mantra, presque incantatoire. Et puis il y un amour pour le verbe, pour les jeux de sonorités et de rythmes qui n'occultent pas une vraie précision et une écriture minutieuse. Reste à vous laisser aller à l'écoute de cette musique. C'est dit (et c'est impec) ! "

THE QUIETUS

"Bégayer's debut album proper sees them pursuing a rust-bucket take on panglobal folk styles that arrives at its own kind of otherness.  Voices are unfettered, pushed to near-breaking point, percussion is thrashed and guitars are like a wire wool scrub for the ears."
8787
Contact
Booking : jullian.muraillesmusic[at]gmail.com
Promo : promo.muraillesmusic[at]gmail.com
Pro
Bégayer
Lausanne (CH)
•
Festival de la Cité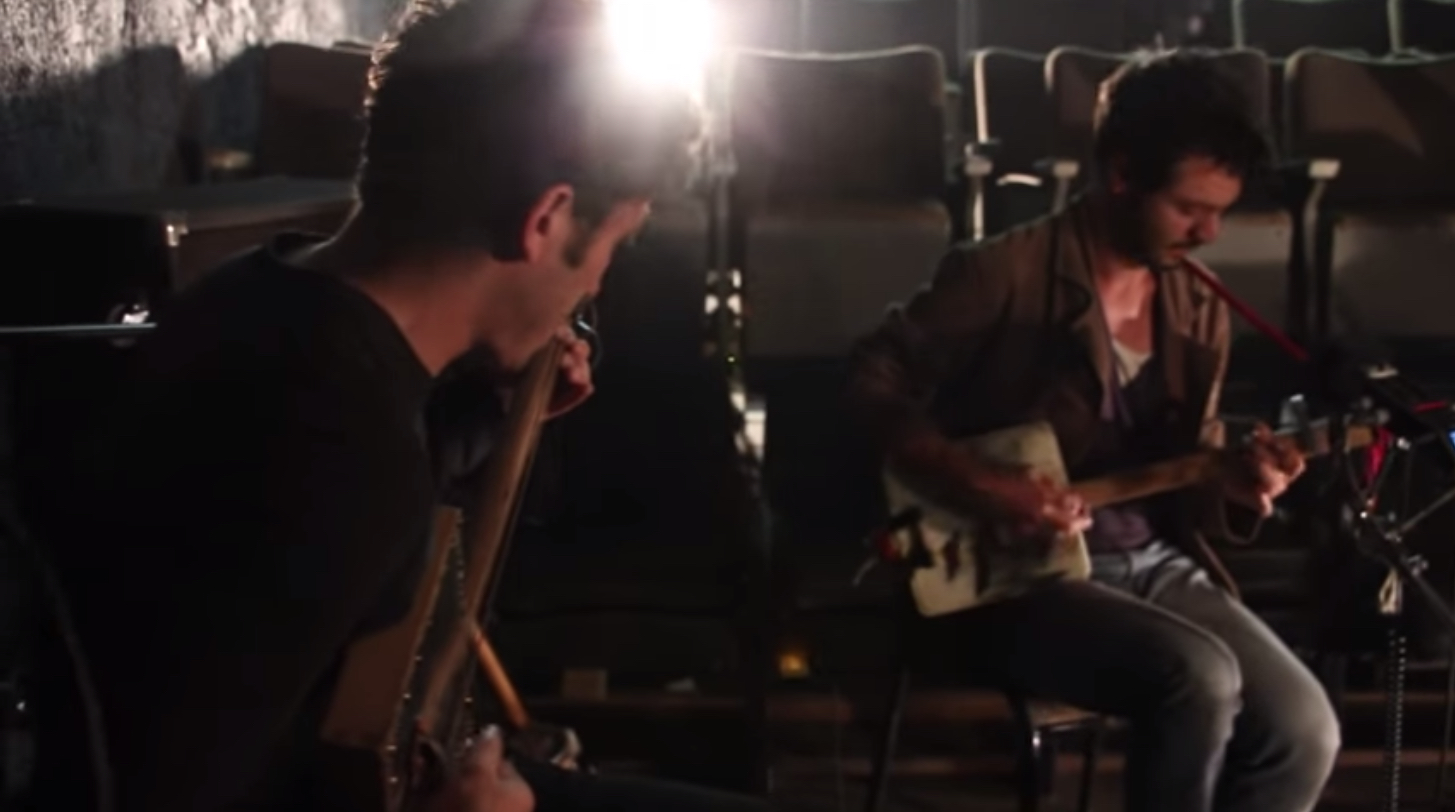 'Almil / La Pente' (live shoot by David Nicolay 2018)
Discography
'Terrain à mire . Une maison rétive . Contrainte par le toit'

Bongo Joe – Le Saule

2018

LP / CD / digital

'L'fsér, calmé les oiseaux'

Le Saule

2016

K7 / EP / digital

'Bégayer'

Le Saule

2015

K7 / EP / digital
Past show
Click on "date", "artist", "city" or "venue" to change the list display
| Date | City | Venue | With | Info | Event | Ticket | Edit |
| --- | --- | --- | --- | --- | --- | --- | --- |
| 05.04.2019 | Paris (75) | Festival Sonic Protest, Église Saint-Merry (COMPLET) | France, OCCAM XXV (Eliane Radigue par Frédéric Blondy) | Info | Event | - | > |
| 28.02.2019 | Lyon (69) | Opéra Underground | Cyril Cyril | Info | Event | - | > |
| 15.02.2019 | Grenoble (38) | La Bobine | Cyril Cyril | Info | Event | - | > |