News
Bio
Co-fondateur du label Les Disques du Festival Permanent aux côtés de Gaspar Claus, Flavien Berger inaugure avec cette première sortie sa collection "La sélection de Flavien Berger" au sein de LDFP.

Une sortie qui doit tout à une rencontre imprévue entre le compositeur et musicien Marc Melià et Flavien Berger, lors du passage de ce dernier à Liège pour un concert. Juste après le show, Marc Melià parvient à glisser une K7 à Flavien contenant les morceaux de l'album "Music For Prophet". Une rencontre symbolisée aujourd'hui sur le back de la pochette du disque, prise de vue de Marc Melià réalisée au sein de la magnifique gare de Liège par la photographe Valérie Le Guern.
Marc Melià est un musicien et compositeur né à Majorque et qui vit aujourd'hui à Bruxelles. Ces dix dernières années, il a composé, produit et joué de la musique au sein de nombreux groupes, parmi lesquels le trio pop bruxellois Lonely Drifter Karen, auteur de 3 albums sur le label belge Crammed Discs. Il est aujourd'hui clavier au sein des groupes Françoiz Breut, Borja Flames et Le Ton Mité.
Music for Prophet, le premier album orchestré par Marc Melià, s'inscrit dans cette tradition naissante d'une musique répétitive composée par des robots sensibles pour les humains du futur. Le personnage principal de ce disque, d'où naissent toutes ces boucles progressives et mystiques, ses statues d'arpèges démesurées et la grande variété de ses paysages électroniques, s'appelle Prophet 08, un instrument synthétique déjà mythique.
Music For Prophet est l'acte de naissance d'une véritable performance où, à l'inverse de la très grande majorité des concerts de musique électronique aujourd'hui, chaque chanson est littéralement fabriquée à la main, de manière totalement artisanale, à chaque concert, sans jamais s'en remettre à des séquences pré-enregistrées. Le fruit de ce travail de recherche et de composition est rassemblé aujourd'hui dans ce disque.
Marc Melià y naturalise ce qui est synthétique, humanise ce qui est robotique, révèle la beauté d'une musique à travers des sons de nature froids et sans émotions. Dans Music For Prophet, se trouve mis en scène cette dichotomie entre une volonté d'être réel et l'impossibilité d'échapper à la nature artificielle de son être; comme lorsque Rachael se rend compte qu'elle est un Réplicant dans le film Blade Runner de 1982.
► Line-up :
Marc Melià : voix, Prophet
Meri Ekola : videos
Co founder of the label Les Disques du Festival Permanent together with Gaspar Claus, Flavien Berger launches with this first release his collection "La sélection de Flavien Berger. This album comes from an unexpected encounter between two musicians when Marc Melià gave a cassette to Flavien Berger containing the songs of "Music For Prophet" after a concert the French singer had given in Liège. A symbolic encounter today illustrated on the cover of the album by a photo taken at the magnificent train station of Liège by french photographer Valérie Le Guern. Marc Melià is a Majorca born composer and musician who currently lives in Brussels. For the last ten years he has been composing, producing and playing music in several bands including the pan-european trio Lonely Drifter Karen among them with whom he released 3 albums on the Belgium label Crammed Discs. Music For Prophet, his first solo album, it's part of the new born tradition of the repetitive music composed by sensitive robots for the humans of tomorrow. The protagonist of the album, from where all the mystical loops, giant statues of arpeggios and the big variety of electronic landscapes post-Kraftwerk are born it's called Prophet 08, an already mythical synthesizer. With Music For Prophet, Marc Melià proposes a performance where, unlike the vast majority of live electronic music acts, each song is crafted by hand at every concert without the use of prerecorded sequences. Marc Melià y naturalises what is synthetic, humanises what is robotic and looks for the beauty in sounds that by nature are cold and emotionless. In the album there is a dichotomy between the will of being real and the impossibility of escaping it's artificial nature, as when Rachael becomes aware that she is a replica, not human in 1982's film Blade Runner. He has performed in recent editions of Belgium festivals Deep in the Woods, Leffingeleuren, Les Nuits Botanique, Theather aan zee or Microfestival and he has opened for artists like Kaitlyn Aurelia Smith, Chasol, Anna Meredith or François and the Atlas Mountains. He has also remixed songs for Girls in Hawaii, Haring, O and François and the Atlas Mountains.
► Line-up :
Marc Melià : vocals, Prophet
Meri Ekola : videos
Press
TELERAMA

"Armé de son synthétiseur modulaire et de pédales d'effets, il a aimanté les spectateurs du festival Hop pop hop."

TELERAMA

"Attention Ovni. Marc Melià, musicien né à Majorque, vit aujourd'hui à Bruxelles. On brûle de découvrir en version live son album Music for Prophet. Soit exactement quarante-quatre minutes enregistrées avec pour seul instrument un Prophet-5,  le mythique clavier synthétiseur de type analogique conçu par la marque Sequential Circuits, en 1978. Un rêve de musique fluide et onirique."

Magic rpm

"Ce musicien espagnol exporté à Bruxelles, timide, lucide et sans compromis, a défendu en seulement une heure – peut-être plus que Nils Frahm, encore – le blason des sons de synthèse du futur." (live report la Route du Rock 2018)

RADIO NOVA

"Marc Melià, petit bijou Belge, incarne la douceur volubile. On eu plaisir et fascination a écouter les titres de son premier album, créés en l'honneur du Prophet, l'un des synthétiseurs phares de la musique analogique. Un voyage imaginaire épique et un artiste à suivre au millimètre."

The Skinny

"We catch Marc Mélia's 2001 synth odyssey floating away on the sea breeze – jealousy is real when we clock kayakers listening in from their choice watery vantage point"

RTBF

" Entièrement conçu sur les touches du synthétiseur analogique, Music For Prophet est plus qu'un disque. C'est une véritable performance : l'aboutissement d'une relation intensive à l'instrument. "

France World News

"Continuons à rebours. La plage et ses concerts, dont l'Espagnol Marc Melia et sa musique électronique intergalactique, déconnectée et irréelle, presque ambient."(live report Route du Rock 2018)

GONZAÏ

"C'est à la fois un drame et un miracle, mais des albums de la trempe du « Music For Prophet » de l'espagnol Marc Mélia bousculent parfois l'entendement au point qu'on peut, requinqué, repartir vaillant pour 30 nouvelles écoutes de disques morts-nés dépourvus du moindre talent artistiques."

Les Inrockuptibles

"Ses sonorités parfois épiques (...) savent guider les novices comme les aguerris vers des univers qui se succèdent mais ne se ressemblent pas. Bien que discrète, la voix bardée d'effets de Marc Melià apparaît çà et là comme pour surprendre un auditeur qui, de toute façon, n'avait pas le temps de s'ennuyer. Espérons maintenant que Melià tombe sous le charme d'une multitude d'autres instruments."

BENZINE

"Avec Music For Prophet, Marc Mélia propose une musique électronique minimaliste, sans le moindre beat et composée exclusivement sur un synthétiseur Prophet 08, qui renvoie notamment à Kraftwerk et au courant Krautrock des années 70."

ALTER1FO

"La casquette vissée sur la tête, assis derrière son synthétiseur fétiche, Marc Melià explore avec une grâce certaine la mélancolie profonde et le potentiel mystique d'une musique faussement froide et robotique."
7256
Contact
Booking sauf Belgique : samuel.muraillesmusic[at]gmail.com
Promo : damien[at]iseecolors.fr / dom[at]iseecolors.fr
Marc Melià
Lisbonne (PT)
•
MIL – Lisbon International Music Network @ Cais do Sodré
Marc Melià
Sannois
•
EMB / Espace Michel Berger
Listen
Arpeggios #2

Music for Prophet – LP (2017)

Cloud Song

Music for Prophet – LP (2017)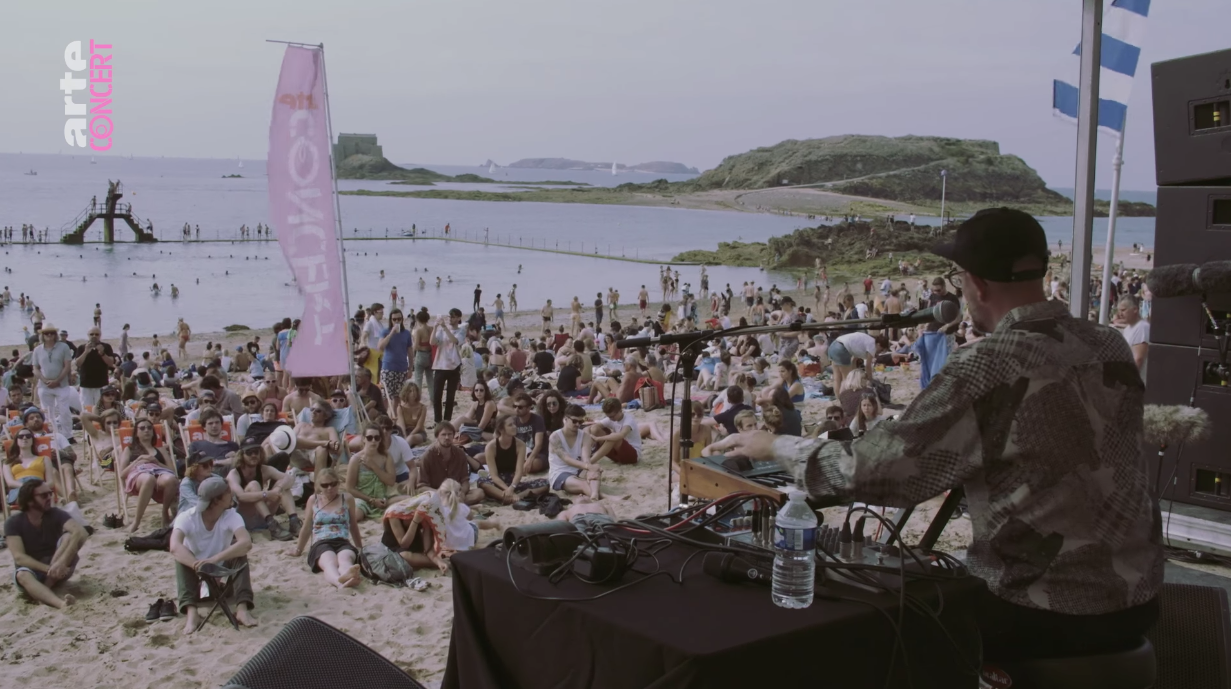 Marc Melià à La Route du Rock - Arte Concert (2018)
Discography
'Echoes of Prophet'

Les Disques du Festival Permanent & Koridor Records

2018

EP / K7

'Music For Prophet'

Les Disques du Festival Permanent / La sélection de Flavien Berger

2017

LP / CD / digital
Marc Melià
Les Disques du Festival Permanent / La Sélection de Flavien Berger
Next show
Click on "date", "artist", "city" or "venue" to change the list display
| Date | City | Venue | With | Info | Event | Ticket | Edit |
| --- | --- | --- | --- | --- | --- | --- | --- |
| 29.03.2019 | Lisbonne (PT) | MIL – Lisbon International Music Network @ Cais do Sodré | Konpromat, Monolithe Noir | Info | Event | ticket | > |
| 25.05.2019 | Sannois | EMB / Espace Michel Berger | Flavien Berger | - | Event | ticket | > |
Past show
Click on "date", "artist", "city" or "venue" to change the list display
| Date | City | Venue | With | Info | Event | Ticket | Edit |
| --- | --- | --- | --- | --- | --- | --- | --- |
| 22.03.2019 | Louvain (BE) | Stuk | Flavien Berger | Info | Event | ticket | > |
| 21.03.2019 | Amsterdam | Paradiso (NL) | Flavien Berger | - | Event | ticket | > |
| 09.02.2019 | Anvers (BE) | Trix (We Are Open) | Marble Sounds, Vito, El Yunque, The Germans ... | Info | Event | ticket | > |
| 08.02.2019 | Mechelen (BE) | Cultuurcentrum | Miaux | - | Event | ticket | > |
| 03.02.2019 | La Riche (37) | Prieuré Saint Cosme (festival Allotropiques) - Set AV | Helio Polar Thing | - | Event | ticket | > |
| 02.02.2019 | Le Mans | La Fonderie (organisé par Teriaki) | - | - | Event | - | > |
| 26.01.2019 | Poitiers | Lieu Multiple - Planétarium - Festival WEE! | A/V set | Info | Event | ticket | > |
| 25.01.2019 | Vanves | Téâtre de Vanves • Modular • Labo du Festival Chorus | Tryphème, Modgeist | - | Event | ticket | > |
| 24.01.2019 | Besançon | ENSMM - La Rodia Hors Les Murs | A/V set | Info | Event | - | > |
| 16.01.2019 | Groningen (NL) | Eurosonic - Grand Theatre | - | - | Event | ticket | > |
| 22.12.2018 | Geel (BE) | Cuulturcentrum de Werft | Brihang, Moving Ground, Esinam, Siebe Le Duc | Info | Event | ticket | > |
| 12.12.2018 | Bruxelles (BE) | Beursschouwburg | - | Info | Event | - | > |
| 08.12.2018 | Toulouse | Dada | - | - | Event | - | > |
| 07.12.2018 | Sète | Festival BAZR - LAROSA | - | Info | Event | ticket | > |
| 06.12.2018 | Nantes | RAUM - Les Écuries | - | - | Event | - | > |
| 05.12.2018 | Paris | Petit Bain | Julia Holter | Info | Event | ticket | > |
| 04.12.2018 | Winterthur (CH) | Kraftfeld | DJ CIO | - | Event | - | > |
| 03.12.2018 | Lausanne (CH) | La Syndicale | - | - | Event | - | > |
| 02.12.2018 | Genève | Festival Face N - Salon d'Hiver | Fina Fitta, Anne Cardinaud, Erachidi & Konaté | Info | Event | - | > |
| 01.12.2018 | Biarritz | Atabal | Flavien Berger | Info | Event | ticket | > |
| 29.11.2018 | Perpignan | L'Arsenal – La Casa Musical (Flashback) | - | Info | Event | - | > |
| 10.11.2018 | Paris | Les Grands Voisins | - | Info | Event | - | > |
| 09.11.2018 | Magny-le-Hongre | FILE 7 | - | Info | Event | ticket | > |
| 07.11.2018 | Angoulême | Le Comptoir des Images (La Nef hors les murs) | - | Info | Event | - | > |
| 28.10.2018 | Toulon | Le Port des Créateurs - MIDI Festival | Judah Warsky | - | Event | - | > |
| 20.10.2018 | Metz | La BAM | Joris Delacroix, Chloé, Flavien Berger | Info | Event | ticket | > |
| 19.10.2018 | Clermont Ferrand | 'Les Nuits Zébrées de Radio Nova' - La Coopérative de Mai | Clément Bazin, Makala, Ouai Stéphane, Orquesta Akokàn | Info | Event | ticket | > |
| 18.10.2018 | Paris | La Gaîté Lyrique | Max Cooper | - | Event | ticket | > |
| 12.10.2018 | Rennes | Maintenant Festival - L'Antipode COMPLET | Flavien Berger | - | Event | ticket | > |
| 11.10.2018 | Saint-Contest | La Demeurée | - | - | Event | - | > |
| 10.10.2018 | Cherbourg | Le Ballon Rouge | - | - | Event | - | > |
| 09.10.2018 | Paris | Le Consulat | Hen Yanni | - | Event | ticket | > |
| 07.10.2018 | Rome (IT) | Festival Ō - MNR Terme di Diocleziano | Omar Souleyman, Anna Calvi, Basinski | Info | Event | - | > |
| 06.10.2018 | Faenza (IT) | Clan Destino | - | - | Event | - | > |
| 04.10.2018 | Laval | 6PAR4 - COMPLET | Jeanne Added | Info | Event | ticket | > |
| 03.10.2018 | Paris | Lieu secret | - | - | - | - | > |
| 15.09.2018 | Orléans | Festival Hop Pop Hop - Salle de L'Institut | Le Comte, Tamino | Info | Event | ticket | > |
| 05.09.2018 | Charleroi | Le Vecteur | - | - | Event | - | > |
| 18.08.2018 | Saint-Malo | Festival La Route du Rock - La Plage Arte Concert | - | Info | Event | - | > |
| 17.08.2018 | Mérignac | Les Voyages Immobiles - Entre Deux Rives (Coconut) - Parc Bourran | Coconut Music (djset) | - | - | - | > |
| 03.06.2018 | Lourmarin | Festival Yeah ! | - | Info | Event | ticket | > |
| 10.05.2018 | Liège (BE) | KulturA - soirée Gonzaï | Dollkraut | Info | Event | - | > |
| 03.05.2018 | Buergues | Musée de Buergues | - | Info | - | - | > |
| 19.04.2018 | Paris | Centre FGO Barbara | Thousand | Info | Event | ticket | > |
| 18.04.2018 | Yverdon-les-bains | L'Amalgame | Matias Aguayi & The Desdemonas | Info | Event | ticket | > |
| 17.04.2018 | Lille | Aeronef | Porches | Info | Event | ticket | > |
| 18.03.2018 | Nantes | Festival Variations - Le lieu unique | - | Info | Event | - | > |
| 26.01.2018 | Paris | La Maroquinerie - Gonzaï night | Aufgang, Domotic | - | Event | - | > |