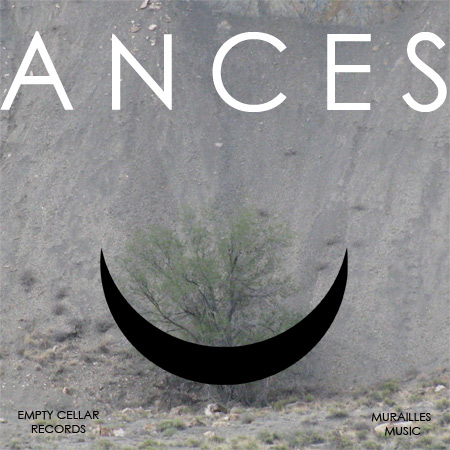 Buy
---
TRACKLISTING
Knifelike

Dogs

Bell + Rein

Points Of Light

Medora

Travel

Ends

Ships
---
PRESS
MUSIQUE(S)

"Dans son nouveau disque End-dances, le trio chicogoan Pillars and Tongues étire de lointaines influences folk à travers de lentes et longues nappes planantes, où les synthétiseurs, chose rare, sonnent, et où le tout-électrique ne se transforme pas en tout-à-effets. Le violon d'Elisabeth Remis se pose avec grâce sur ce courant liquide, prière numérique ou transe moderne." - Raphaëlle Tchamitchian

À L'ÉCOUTE

"Sur 'Knifelike', ce sont les esprits du Spiritchaser de Dead Can Dance qui sont convoqués. Avec 'Bell + Rein', on reprend le voyage initiatique entamé avec le The End des Doors. 'Medora' et sa pulsation hypnotisante flirte elle avec la coldwave des 80's, quand le Lynchien 'End' se révèle être le parfait compagnon d'une virée nocturne dans le désert californien…"

SWQW

"Pillars and Tongues est un arbre de connaissance avec des racines puisant dans les expérimentations folk alentour, un tronc ambient, des branches populaires et des feuilles nervurées de mysticisme. Une harmonie naturelle."

FOUTRAQUE

"La musique de Pillars and Tongues nous fait voyager entre l'orient et l'occident. Presques religieuses, les compos à la fois orchestrées et dépouillées transportent notre corps « lourd » vers des cieux étoilés. A l'image du graphisme qui illustre leurs pochettes, les éléments naturels font partie de leurs sources d'inspiration. (...) Ce disque n'est pas un album « pop », il est conseillé d'être en condition, on s'installe confortablement dans un canapé douillet et on écoute au calme la profonde musique de Pillars and Tongues."

LA VOIX DU NORD

'Chant liturgique ? Ritournelles folk ? Pop chorale ? Le trio de Chicago se situe quelque part à la croisée de ces chemins. Sa musique, qu'on peut comparer à celle, sombre, de Dead Can Dance, est furieusement singulière.'

TÉLÉRAMA SORTIR

'Un subtil alliage de voix, de cordes d'harmonium et de percussions par un trio de Chicago qui maîtrise l'art de l'hypnose. Sa musique en lévitation, mélancolique, gracieuse et inventive, pourrait, par certains côtés, être rapprochée de celle de Kate Bush. Tentant, donc.' - Frédéric Péguillan

MOWNO

"Le combo souffle ici huit titres majoritairement dictés par des percussions, cordes, et synthés : un triptyque qui incite à s'immerger dans un monde parallèle, à remonter le temps pour finalement réécrire l'histoire, autrement."

INDIEPOPROCK

"On retrouve cette pesanteur spatiale propre à Dead Can Dance tout au long de 'End-Dances', un flottement bienfaisant qui vous insuffle repos et sérénité. Moins "world music" que leurs ô combien illustres parents spirituels, Pillars And Tongues délaissent les sonorités tribales pour des aspirations 80's très occidentales. Le Roxy Music de Bryan Ferry semble effectivement hanter les studios… Mais après les deux premiers titres "coupages de cordon" comment ne pas entendre le fantôme de Brendan Perry dans la voix de Mark Trecka? Le mimétisme en est réellement saisissant."

DES CHIPS ET DU ROSÉ

"Mais si cet album de Pillars and Tongues n'a pas les inflexions médiévales du mythique groupe 4AD des années 90, il se dégage malgré tout dans cet album, comme chez Dead Cand Dance, un aspect à la fois un peu lyrique, un peu mystique, un peu planant qui lui donne aussi toute sa particularité."

7 INCHES (USA)

{:en}"Mark Trecka's vocal is an emotional chant, witness to a ritual, a primal, ancient rite reenacted by a trained classical vocalist who's aware of the space and the way a body can project. (…) The repetition and loops encourage a meditative trance like some kind of new age psych, mentally changing the way you approach hearing these sounds."{:}
Pillars and Tongues
END-DANCES
MM010
Release date: 02/24/2014
'End-dances' is the new album by Pillars and Tongues on Empty Cellar Records. Although from Chicago, Beth Remis, Ben Babbitt, and Mark Trecka have spent much of the last few years traveling, performing music in a wide variety of contexts, exploring the severe and sublime landscapes of America, and returning to or refusing to return to variations on the theme of home.
Recorded by Theo Karon, 'End-dances' leaps forward in the direction implied by the last full-length, 'The Pass and Crossings', and the recent cassette, 'If Travel is Asked of Me'. Long-form compositions are coerced into considered and patiently constructed songs, resulting in their most pop-oriented work to date. But in that, the work allies with the darker, stranger side of the pop realm, evoking the drama and atmosphere of Dead Can Dance, and the art-prog experimentation of Peter Gabriel's 4. The characteristic harmonium and violin blend with enveloping synths, undulating loops and gated rhythms of hazy origin.
Karon's adventurous engineering is apparent throughout the record; the band's attention to the expressive potential of the sounds themselves is supported by mesmeric tape loops, saturated vocal echoes, and vibrant tones coaxed from radically transformed sources. Points of intersection between the acoustic and the electronic are embraced, calling the assumed organic nature of a drum and the artifice of a synthesizer into question. Loping, hypnotic rhythms give way to cinematic ambient passages, receding to reveal, again and again, the voices, with Trecka's bold baritone in the lead. Remis' voice — central and refined — conjures, floats, and skitters, at varying points harmonizing with and countering Trecka's lead, as both chant against Babbitt's croon.
The lyrics are poetic, exploring themes of ambivalence, health and the acts of writing and singing. 'Knifelike' reads like a less optimistic version of Kate Bush's 'Love and Anger', flirting with tender descriptions of metaphorical violence: "My lines, knifelike impressions of your life / give teeth to timelines / cut knuckles testify". 'Bell + Rein' is an acknowledged homage to Leonard Cohen's 'Take This Longing', reiterating an infamous desire to not desire. 'Medora' and 'Travel' are both hallucinatory descriptions of travel as an act of self-actualization. "I ride through / to follow / where I go". 'Ends' evokes the elegiac melancholy of William Basinski, pitting a single thin and unadorned violin against a torrent of tape-garbled pianos.
Pitchfork conceded in 2010 that "it's difficult to talk about influences or genres with Pillars and Tongues, and almost as hard to talk about their sound." And The Chicago Tribune has said that the group "defies easy categorization, unless you're looking in that bin marked 'essential." While affinities may be noted with contemporaries like Julia Holter, Liars and others working creatively with tone, texture, and ambience, in the context of voice-driven songwriting, Pillars and Tongues cuts a singular path through the contemporary musical landscape.
Pillars & Tongues :
Ben Babbitt : bass/drums/vocals/synthesizer/mbira/clarinet/loops
Elizabeth Remis : violin/vocals/loops/percussion
Mark Trecka : vocals/harmonium/pump organ/piano/synthesizer/percussion
+ Theo Karon : tape loops/backing vocals on 'Bell + Rein'
Acknowledgments : Evan Hydzik ('Dogs', 'Bell + Rein', 'Points Of Light' and more);
Humbly, L Cohen's 'Take This Longing' as it applies to 'Bell + Rein'
Recorded by Theo Karon at Hotel Earth (Chicago) 2012 and mixed at the Great Northern 2013.
Mastered by Carl Saff
All music by Pillars And Tongues, words by M. Trecka
All songs benediction wilderness publishing, ASCAP.
© Empty Cellar Records / Murailles Music 2013
---
LINKS
---