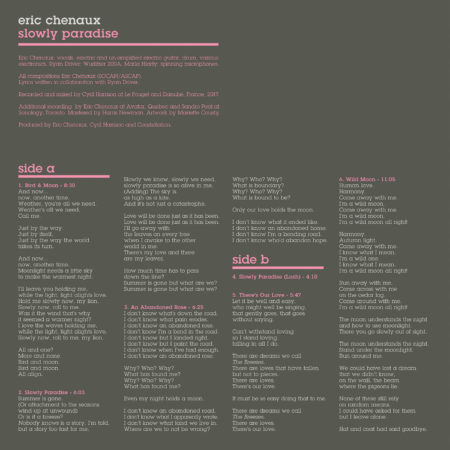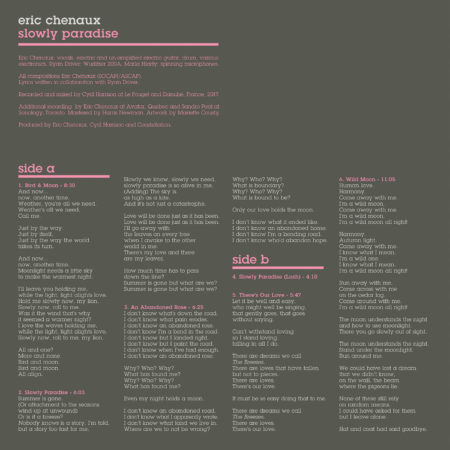 Buy
Press
THE GUARDIAN

"One of the best and most under-appreciated singer-songwriters on the planet has returned with a new album"

The Quietus

"

Where Chenaux really differs from any of them is in his lysergic tonal explorations, behind his honey-dipped vocals and baffling assortment of bent guitar notes, aquatic and forever morphing"

Magic RPM

"Entre pop, jazz et musique improvisée, sur des expérimentations guitaristiques organiques, liquides ou volatiles, défiant les codes de l'harmonie et de l'euphonie, Chenaux poseses mélodies languides et amoureuses, d'une voix haute et claire, évoquant Robert Wyatt ou Chet Baker."

Libération

"Des «tremblements de terre très doux» à répétition dont les matières très poétiques évoquent autant la trompette fébrile de Chet Baker qu'un solo de stylophone dans un disque d'exotica ou la guitare explosée de Derek Bailey. (...) Magnifiquement instable, le jeu de ce guitariste canadien est l'un des plus précieux de la musique expérimentale contemporaine."

Uncut

"The 11 minutes, Robert Wyattish 'Wild Moon' with its woovy keys and extrem fretwork building to a quievring peak - stands out but sensual beauty abounds."

ADDICT-CULTURE

"La musique joue sur les contrastes entre cette voix exceptionnelle, douce et chaude et cette guitare distordue et dissonante, qui étire les morceaux pour les enrober dans un cocon soyeux."
2247
Eric Chenaux

Slowly Paradise