News
Bio
« Les très vieux  silures couverts de mousse qui vivent dans les abîmes du lac, ne remontent jamais à la lumière du jour et dédaignent tout appât que leur offre la nature. Ils ne se laissent attirer que par les formes les plus bizarres que le pêcheur puisse inventer, lames brillantes et argentées en forme de main humaine, qui, attachées au fil de la ligne, dansent la gigue, ou bien chauve-souris de verre rouge avec des hameçons perfidement piqués dans les ailes. » G.Meyrink

L'ocelle mare : Serpentement
Instruments : métronome mécanique à cloche, plaques d'harmonica, banjo six cordes, microphones, amplificateurs,  frappements de pieds et de mains, ukulele six cordes, diapasons, concertina, pavots secs, sifflements, harmonica, minuteur, orgue à bouche, grelots.
Le projet solitaire de Thomas Bonvalet a d'abord été centré sur la guitare classique, prenant des formes courtes, dynamiques et abruptes et se limitant exclusivement aux possibilités acoustiques de l'instrument . Une posture radicale constamment menacée de se mettre dans l'impasse, se voyant contrainte à la métamorphose et au mouvement. L'instrument est ainsi devenu de moins en moins identifiable, absorbant et déviant de leur usage les objets sonores présents en marge (métronomes, diapasons, etc.), intégrant le souffle et les sons résultants du geste instrumental premier, se fragmentant et tentant de faire apparaître une nouvelle figure fugace. L'amplification a elle aussi pris peu à peu une place essentielle dans ce nouvel instrumentarium/organisme. Il reste cependant cette même voix sous-jacente et cette grande considération pour les détails, la tension et les possibles points de surgissement.
'Serpentement' est le quatrième disque de l'ocelle mare et a été enregistré par Adrian Riffo, au temple protestant de Bergerac, en novembre 2011.
Thomas Bonvalet est né en octobre 1977 et vit à Alpedrete, Espagne. Guitariste du groupe Cheval de frise entre 1998 et 2004, il fait son premier concert solo sous le nom de l'ocelle mare en Septembre 2005.
LINE-UP
Thomas Bonvalet : banjo électrifié, orgue à bouche, métronome mécanique à cloche, plaques d'harmonica, frappements de pieds et de mains, diapasons, sifflements, harmonica, grelots
« The very old catfish, covered in moss, that live in the depths of the lake, never go up towards daylight and disdain any bait that nature offers them.They are only attracted by the oddest shapes that fishermen can invent, shiny and silvery blades in the shape of a human hand that, attached to their line, dance a jig; or also a bat made of red glass with hooks treacherously sewn inside their wings. » G.Meyrink L'ocelle mare : Serpentement Instruments: mechanical metronome with bell, harmonica reeds, six string banjo, amps, microphones, feet tapping, hand clapping, six string ukulele, tuning forks, timer, mouth organ, Harmonicas, concertina, dry poppy pods,whistlings,… The solitary project of Thomas Bonvalet initially focused on the nylon string guitar, taking short, dynamic and abrupt forms and limiting itself exclusively to the acoustic possibilities of the instrument. A radical posture, it constantly threatened to put itself at an impasse, seeing itself forced into metamorphosis and movement. The instrument thus became less and less identifiable. At the periphery it absorbed the sound of objects (metronome, tuning forks…) deviating from their common usage, integrating the breath and the sounds rising from the instrumental gesture, splitting up to reveal a new fleeting form. Amplification has also progressively taken an essential part in this new instrumentarium/organism. However, there remains this same subterranean voice, the consideration of detail and tension, the seeking of possible points of sudden revelation. "Serpentement" is the fourth recording of « l'ocelle mare » and was recorded by Adrian Riffo, in the Protestant temple of Bergerac (France), in november 2011. Thomas Bonvalet, (born October, 1977) lives in Alpedrete, Spain. Guitar player of the band Cheval de frise between 1998 and 2004, he made is first solo show under the name of l'ocelle mare in September 2005. He toured Europe, Scandinavia, Israel, USA and China.
Press
GONZAÏ

"Une approche de la musique hyper physique, nerveuse et parfaitement tellurique."

INCERTAINFOLK

"Entrelacs subtils de vibrations, de chocs et de souffles, les compositions bruitistes de Thomas Bonvalet n'ont pas d'équivalent et si ses prestations scéniques valent le coup d'œil, c'est encore les yeux fermés qu'on en appréciera le mieux l'élégante pulsation."

THE WIRE

"As he accompanies his louche flourishes with percussive thuds and bumps generated by specially adapted tap shoes on an amplified wooden board, Bonvalet approaches something like a rambling free flamenco. But there's a tight compositional structure to his performance as a whole, with the set divided into brief vignettes exploring different moods and timbres: using multiple metronomes and the shuffling of his feet to create bumbling grooves reminiscent of Moondog's disjointed snake time rhythms; or exploring aching harmonics through the chiming of miniature hand bells and clear, pristine tuning forks." [live report]

QUENCH (Écosse)

"Juxtaposing the grand nature of the earlier sets, Thomas Bonvalet, stage name L'Ocelle Mare, brought together banjos, rushing feet tapping, blown amps and a wide array of equipment for a manic one man band set that was brimming with raw emotion. Impassioned, mad scientist-esque displays were met with a dazed crowd who would then erupt into applause during down periods, only to be met with a humble "Merci" from Bonvalet and a nod." [live report]

PROGRESSIA

"Le français est avant tout un poète du son qui s'exprime avec une liberté d'expression dépassant toute forme de virtuosité et de rationalité d'écriture pour se concentrer sur une matière sonore vivante, résonante"
38
Contact
Booking France : amaury.muraillesmusic[at]gmail.com
Promo: promo.muraillesmusic[at]gmail.com
L'Ocelle Mare
Mulhouse
•
Météo Jazz Festival, Le Noumatrouff
L'Ocelle Mare
Nantes
•
Musée d'Arts de Nantes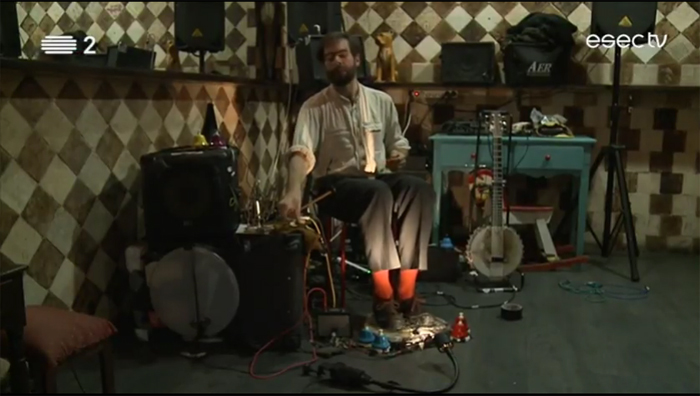 Interview - Esec TV (Portugal, 2017)
L'Ocelle Mare
FR / Murailles Music
Click on "date", "artist", "city" or "venue" to change the list display
| Date | City | Venue | With | Info | Event | Ticket | Edit |
| --- | --- | --- | --- | --- | --- | --- | --- |
| 16.03.2018 | Armentières | LE VIVAT | La Baracande | Info | - | ticket | > |
| 29.10.2017 | Genève | Cave 12 | Mariachi & Maria Berthel | Info | - | - | > |
| 28.10.2017 | Lausanne (CH) | Théâtre de l'Arsenic | - | - | - | - | > |
| 23.09.2017 | Bourg les Valence | Médiathèque la Passerelle | - | - | - | - | > |
| 16.09.2017 | Nantes | Musée d'Arts de Nantes | Alexis Degrenier, Gaspar Claus (solo) | - | - | - | > |
| 15.09.2017 | Bayonne | TBC | - | - | - | - | > |
| 26.08.2017 | Mulhouse | Météo Jazz Festival, Le Noumatrouff | - | Info | Event | - | > |
| 15.04.2017 | Paris | Festival Présences Électronique - 104 | Jana Winderen | Info | - | - | > |
| 09.03.2017 | Poitiers | Jazz à Poitiers, Carré Bleu | Gaspar Claus solo, Will Guthrie | Info | Event | - | > |
| 08.03.2017 | Jurançon | La Ferronnerie | - | - | Event | - | > |
| 08.02.2017 | Dunkerque | Hangar / Fructôse | - | - | Event | - | > |
| 04.02.2017 | Rennes | Le Bon Accueil | - | - | Event | - | > |
| 03.02.2017 | Bordeaux | Cinéma l'Utopia | - | - | - | - | > |
| 02.12.2016 | Avignon | Les Hauts Plateaux | Lionel Malric | - | - | - | > |
| 01.12.2016 | Perpignan | L'Anthropo | - | - | - | - | > |
| 30.11.2016 | Barcelone | El Pumarejo | - | Info | Event | - | > |
| 13.11.2016 | Bruxelles | Beursschouwburg | - | Info | - | - | > |
| 23.10.2016 | Paris | Le Centquatre | Gaspar Claus | Info | Event | ticket | > |
| 09.10.2016 | Germ (65) | Festival Occitania, Chez Lily | Sourdure | Info | - | - | > |
| 29.09.2016 | Graz (Autriche) | Steirischer Herbst Festival | - | Info | - | - | > |
| 11.09.2016 | Pantin | Jazz à la Villette 'Under the Radar', La Dynamo | - | Info | - | - | > |
| 17.07.2016 | Paris | Les Siestes Electroniques, Musée du Quai Branly | Voiski | Info | Event | - | > |
| 20.05.2016 | Ploéven (29) | Festival Sonore, Le Barazin | Gaspar Claus, Will Guthrie | Info | - | - | > |
| 15.05.2016 | Commana (29) | Festival Le Lac | Sourdure, Alexis Degrenier, Chien Vert, Dale Cooper Quartet... | Info | Event | - | > |
| 22.04.2016 | Bricquebec (50) | Le Reaume | Arlt (quatuor) | - | Event | - | > |
| 20.04.2016 | Tours | Chapelle Sainte-Anne | Thomas Leuwers | - | - | - | > |
| 19.04.2016 | Tarbes | Celtic Pub | - | - | - | - | > |
| 06.02.2016 | Lille | La Malterie | Borja Flames | Info | Event | - | > |
| 05.02.2016 | Nantes | Blockhaus dy.10 | - | - | Event | - | > |
| 04.02.2016 | Bordeaux | Nôvo Local | Kraums Notho + Pontèvia/Chiesa/Nastorg | Info | - | - | > |
| 16.01.2016 | Roma (It) | Dal Verme | Glauco Slavo, Bob Corn | Info | - | - | > |
| 25.07.2015 | Le Tuquet (24) | Festival de musique jouée et de poésie lue | Urs Graf Consort, Marius Loris, Rouge Gorge Rouge | - | Event | - | > |
| 30.08.2014 | Le Mans | 'Les Siestes' du Festival Teriaki, Abbaye de l'Epau | - | Info | Event | - | > |
| 23.08.2014 | Saint Silvain sous Toulx | Festival 'Le Bruit de la Musique', Parc du Château de la Roche | - | Info | Event | - | > |
| 14.12.2013 | Montpellier ‎ | The Black Sheep | - | Info | - | - | > |
| 13.12.2013 | Saillans | Concert en appartement | - | Info | - | - | > |
| 12.12.2013 | Grenoble | Le 102 | - | Info | - | - | > |
| 11.12.2013 | Tours | Festival 'Super Flux' (Le Petit Faucheux) | Pierre Bastien (ciné-concert 'Phantoms') | Info | Event | ticket | > |
| 05.07.2013 | Marseille | Festival MIMI - 'Hôpital Caroline' - Iles du Frioul | Algecow, Pere Ubu | Info | Event | - | > |
| 30.06.2013 | Schaerbeek (BE) | Shindig | Montei Isola | - | Event | - | > |
| 16.06.2013 | Brighton (uk) | FITZHERBERTS | - | - | - | - | > |
| 15.06.2013 | Londres (UK) | Cafe Oto | Charlemagne Palestine | Info | - | ticket | > |
| 14.06.2013 | Leeds | Wharf Chambers | - | Info | - | - | > |
| 08.06.2013 | La Pommerie en Haute-Corrèze | Rencontres Art et Ecologie | - | Info | - | - | > |
| 17.05.2013 | Madrid | Faena II | a hawk and a hawksaw | - | - | - | > |
| 10.05.2013 | Toulon | Festival Constellations, l'Ex museum | - | - | - | - | > |
| 09.05.2013 | Toulon | Festival Constellations, la colline du Mont Faron | - | Info | Event | - | > |
| 01.02.2013 | Montreuil | Les Instants Chavirés | PQ | Info | Event | - | > |
| 19.01.2013 | Nantes | 'Soirée curieuse' - Le Lieu Unique | Trio Puech/Gourdon/Bremaud, Stefan Lakatos | Info | - | ticket | > |
| 18.01.2013 | Brest | Le Virage | m. Labrador | - | - | - | > |