News
Bio
L'Anonymous Choir est né durant l'hiver 2011 sur l'idée commune de la chanteuse/pianiste/musicienne Nona Marie Invie (Dark Dark Dark, RONiiA) et ses amies afin de repousser le spleen hivernal par la création d'un projet musical créatif entièrement mené par des femmes.
La chorale est composée d'un éventail de femmes aux parcours vocaux variés, réunies par leur amour particulier pour le chant et l'expérimentation vocale. Elles sont inspirées par les lumières de Kate Bush, Neil Young, Leonard Cohen, Joni Mitchell et Wendy Rene. Nona chante, arrange les compositions pour quatre voix et les accompagne au piano.
L'Anonymous Choir s'est produit en tournée aux États-Unis et a également composé et joué pour le cinéma et la danse.
Pour cette première tournée française, la chorale reprendra une partie du répertoire du musicien folk et poète canadien Leonard Cohen.
In 2011, Anonymous Choir emerged as a wintertime project proposed by chanteuse/pianist/musician Nona Marie Invie (Dark Dark Dark, RONiiA) and close friends as a way to purge the winter blues and stir something musical and creative together with a community of women.
The choir is comprised of an array of women who enjoy singing and experimenting vocally, and come from varying vocal experiences. They kneel at the altars of such luminaries as Kate Bush, Neil Young, Leonard Cohen, Joni Mitchell and Wendy Rene. Nona reimagines and arranges the pieces into four vocal parts and plays piano accompaniment.
Anonymous Choir has performed for US venues, including providing original live choral scores for film festivals and dance performances.
For its first french tour, the choir will cover part of the repertoire of folk musician and poet Leonard Cohen.
Press
LE PETIT BULLETIN

"Dans leur interprétation d'une infinie douceur et à la scansion pleine de langueur, tout en harmonies vocales bien sûr, mais respectant une forme de minimalisme quasi religieux, l'Anonymous Choir rappelle qu'avant d'être un chanteur et un musicien, Cohen est un poète dont les mots résonnent avant tout par et pour eux mêmes. Des mots que Nona Invie & Co font vibrer avec une grâce infinie."

GRAZIA

"Un choeur féminin reprend les titres du poète [Leonard Cohen], avec de belles voix blanches comme un soleil d'hiver."

POP NEWS

"Toute anonyme qu'elle soit, cette chorale a le potentiel pour faire chavirer bien des coeurs."

CITY PAGES (USA)

"Entre de mauvaises mains, une reprise est souvent bien trop respectueuse de l'original, indépassable. Ce groupe vocal entièrement féminin contourne sans mal cet obstacle."

THE CURRENT (USA)

"Un projet magnifique, vibrant et minimaliste."
4091
Contact
Booking: samuel.muraillesmusic[at]gmail.com
Promo: melissa[at]melissa-pr.com
Pro
Listen
'Bird On A Wire'

'Sings Leonard Cohen' (2015)

'Im Your Man'

'Sings Leonard Cohen' (2015)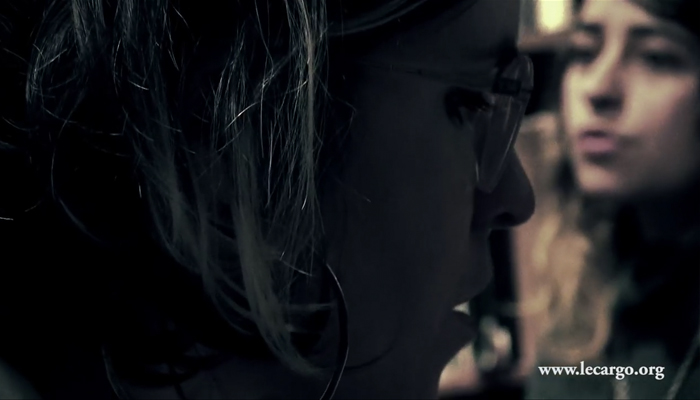 'The Partisan' (Leonard Cohen cover) Cargo live session (Paris, December 2015)
ANONYMOUS CHOIR
us / Mind Rider Records & Murailles Music
Next show
Pas de concert actuellement - No current show
Past show
Click on "date", "artist", "city" or "venue" to change the list display
| Date | City | Venue | With | Info | Event | Ticket | Edit |
| --- | --- | --- | --- | --- | --- | --- | --- |
| 14.12.2016 | Blois | Temple | - | - | Event | - | > |
| 13.12.2016 | Beauregard (46) | Salle des Fêtes | - | - | - | - | > |
| 12.12.2016 | Toulouse | Les Pavillons Sauvages | - | - | - | - | > |
| 11.12.2016 | Saint Martin de Curton (47) | Eglise | - | - | - | - | > |
| 10.12.2016 | Anglet | Chapiteau de Baroja | - | Info | - | - | > |
| 09.12.2016 | Pau | La Centrifugeuse | Charles X | Info | Event | - | > |
| 08.12.2016 | Joué-lès-Tours | Le Temps Machine | Aldous Harding, Noiserv | Info | Event | - | > |
| 07.12.2016 | Paris | FGO-Barbara | Gisele Pape, Verone | Info | Event | ticket | > |
| 06.12.2016 | Nantes | Stereolux | - | Info | Event | - | > |
| 04.12.2016 | Saint-Aubin-du-Cormier (35) | Ecole de Musique | - | - | Event | ticket | > |
| 03.12.2016 | Saint-Lô | Centre Culturel Jean Lurçat, Auditorium de la médiathèque | - | - | Event | - | > |
| 02.12.2016 | Schaerbeek/Bruxelles (Be) | Soirée Cerise (en appartement) | - | - | - | - | > |
| 20.12.2015 | Paris | Le CentQuatre | - | Info | Event | ticket | > |
| 19.12.2015 | Lyon | Le Bal des Fringants | - | Info | Event | ticket | > |
| 18.12.2015 | Aurillac | Théâtre d'Aurillac | Juste des Jeux | Info | - | - | > |
| 17.12.2015 | Cenon (33) | Le Rocher de Palmer | - | Info | - | ticket | > |
| 16.12.2015 | Nantes | Le Lieu Unique, La Folk Journée #3 | - | Info | - | ticket | > |
| 15.12.2015 | Laval | Chapelle du lycée Ambroise Paré | - | Info | - | ticket | > |
| 14.12.2015 | Angers | Joker's Pub | - | - | Event | - | > |
| 13.12.2015 | Rennes | Antipode MJC | The Last Morning Soundtrack | Info | Event | ticket | > |
| 12.12.2015 | Argenteuil (95) | La Cave Dimière | - | Info | - | - | > |
| 11.12.2015 | Beauvais | Cinéma Agnès Varda | - | Info | Event | ticket | > |
| 09.12.2015 | Metz | Les Trinitaires | - | Info | - | ticket | > |